Pet Boarding
Those who are clients and are looking for pet boarding in St. Charles County can turn to Animal Talk. We have been in business since 1986, and have built a reputation for providing superior animal care while also having safe and clean facilities for animals to stay in.
Whether boarding is needed overnight or for an extended period, Animal Talk will give each pet the best care possible. Dogs and cats are welcome, as there are designated areas for each one. Animals will be well fed and exercised, and will have access to emergency care in the event they are struck by an unexpected illness.
Pets are let outside multiple times per day and we can meet almost any special needs that your pet requires for no additional cost. The people caring for your pets are trained technicians and if there are concerns the doctor on site to help with their care.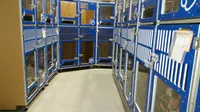 We encourage anyone who would like to see our facility to come by and visit our boarding area anytime and see the kennels for themselves. We look forward to the opportunity to spoil your pet like they were at home with you!